Not the member you searched for? See Members Category.
This page is incomplete!

This page is a stub. You can help by expanding it as soon as possible, then removing this tag.
8shot

Statistics:
Name:
Unknown
Gender:
Male
Age:
11 year old
Birth Date:
Unknown
Country:
United states
Joined:
2015
Last Visit:
2016
Member of the Day on:
October 27th, 2015
8shot is a confusing member.With only 800 views,there was a HUGE pink square on Top Members.He also got Member of the Day on October 27th.He has posted about 2,000 comments saying "Vote me for member of the day",Including on my profile.He knows Microgames alot more than he knows other people.8shot is currently level 17.He is a part of his 5 main groups,ThoseAwesomeBros,Five nights at sploder's,EVERYONE CAN JOIN! SO JOIN!!!!!!!!,Microgames friends,Game is life.He has 3 awards.One from Beachball,One from Microgames,and one from Thatcarterguy.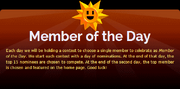 Ad blocker interference detected!
Wikia is a free-to-use site that makes money from advertising. We have a modified experience for viewers using ad blockers

Wikia is not accessible if you've made further modifications. Remove the custom ad blocker rule(s) and the page will load as expected.