Brozilla is an enemy in the Arcade Creator. He is able to spit fire from his mouth, and so far he only appears in the Cave World. His size, HP, and strength are all equivalent to that of the Big Baddie from Forest World. If the player attempts to slide or charge at a Brozilla, he will karate-chop the player, which will take away about 3 out of 10 of the player's health from the health bar.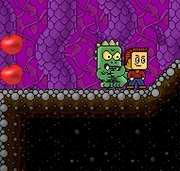 Trivia
Brozilla is most likely to be the Arcade equivalent of the Platformer creator's Snarley. Also, Brozilla vaguely resembles Snarley, but that Snarley's eyes are yellow-green instead of gold and yellow, and Snarley's skin is a brighter shade of green than Brozilla's. Snarley also does not do the karate moves that Brozilla does.
Ad blocker interference detected!
Wikia is a free-to-use site that makes money from advertising. We have a modified experience for viewers using ad blockers

Wikia is not accessible if you've made further modifications. Remove the custom ad blocker rule(s) and the page will load as expected.