Music is an optional accessory exclusive to the Platformer, Arcade, and Physics Puzzle Maker Game Creators. Both the Platformer and Physics Puzzle Maker have the same 251 soundtracks that can be used individually for each level of the game. The Arcade Creator has a total of 24 different tracks, in order from arcade1.mp3 to arcade24.mp3. New music is added to the Creators by Geoff gradually. Out of the 251 soundtracks, only 25 are in the "featured" category, for their wide use and popularity. These soundtracks are as follows:
List of Artists
The creators of the soundtracks, selectively picked by Geoff himself.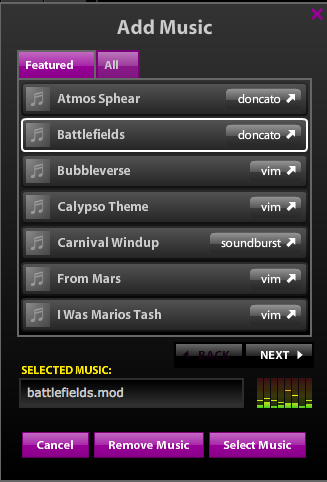 Other Music
The remaining 226 soundtracks excluded from the featured channel.
for the best songs by order 2013 click here.
Ad blocker interference detected!
Wikia is a free-to-use site that makes money from advertising. We have a modified experience for viewers using ad blockers

Wikia is not accessible if you've made further modifications. Remove the custom ad blocker rule(s) and the page will load as expected.