Speeder

(Bottom) A Speeder clashing with the Ship Player, a Cruiser and an Ally.

Creator

Attack(s)

Pellet
The Speeder is an enemy in the Sploder Shooter "Ship" games, and the second to be listed in the Enemies and Hazards Game Creator Category. The Speeder is an original game enemy. Users of any level can use this enemy in their games.
Appearance
It looks like a small spaceship with an atomic-like design. It has yellow highlights and it is generally orange. It is a triangular enemy which is pretty fast at attacking at the Player.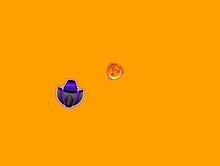 Stats
Powers and Abilities
Immense Speed:
Immense Mobility:
Trivia
(All known glitches involving the Speeder go here.)
Ad blocker interference detected!
Wikia is a free-to-use site that makes money from advertising. We have a modified experience for viewers using ad blockers

Wikia is not accessible if you've made further modifications. Remove the custom ad blocker rule(s) and the page will load as expected.