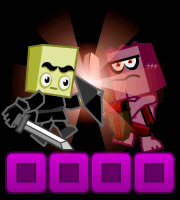 The
Sword
is the
Player's
main weapon in the
Platformer creator games
, and has an unlimited amount of hitting and damaging production to enemies. Another variation of the sword, the "
Big Sword
," has much more power than the regular sword, but has limited hitting production.
On the left of this picture, you will see the player using the sword to battle a thug.
Other uses
The Big Sword in the Platformer has more uses than to damage an Enemy repeatedly. If the player swings in the air, and hits while crashing, the damage the enemy will take will be 3 times the original amount. A Ninja, a Thor, and a Thug are capable of this as well with their weapons.
The sword is also used to climb tiles, bricks, and other platforms. By hitting the sword repeatedly against a tile or brick, it will cause the player to climb until the limit is reached.
Ad blocker interference detected!
Wikia is a free-to-use site that makes money from advertising. We have a modified experience for viewers using ad blockers

Wikia is not accessible if you've made further modifications. Remove the custom ad blocker rule(s) and the page will load as expected.